Remembering Eliena Eastman II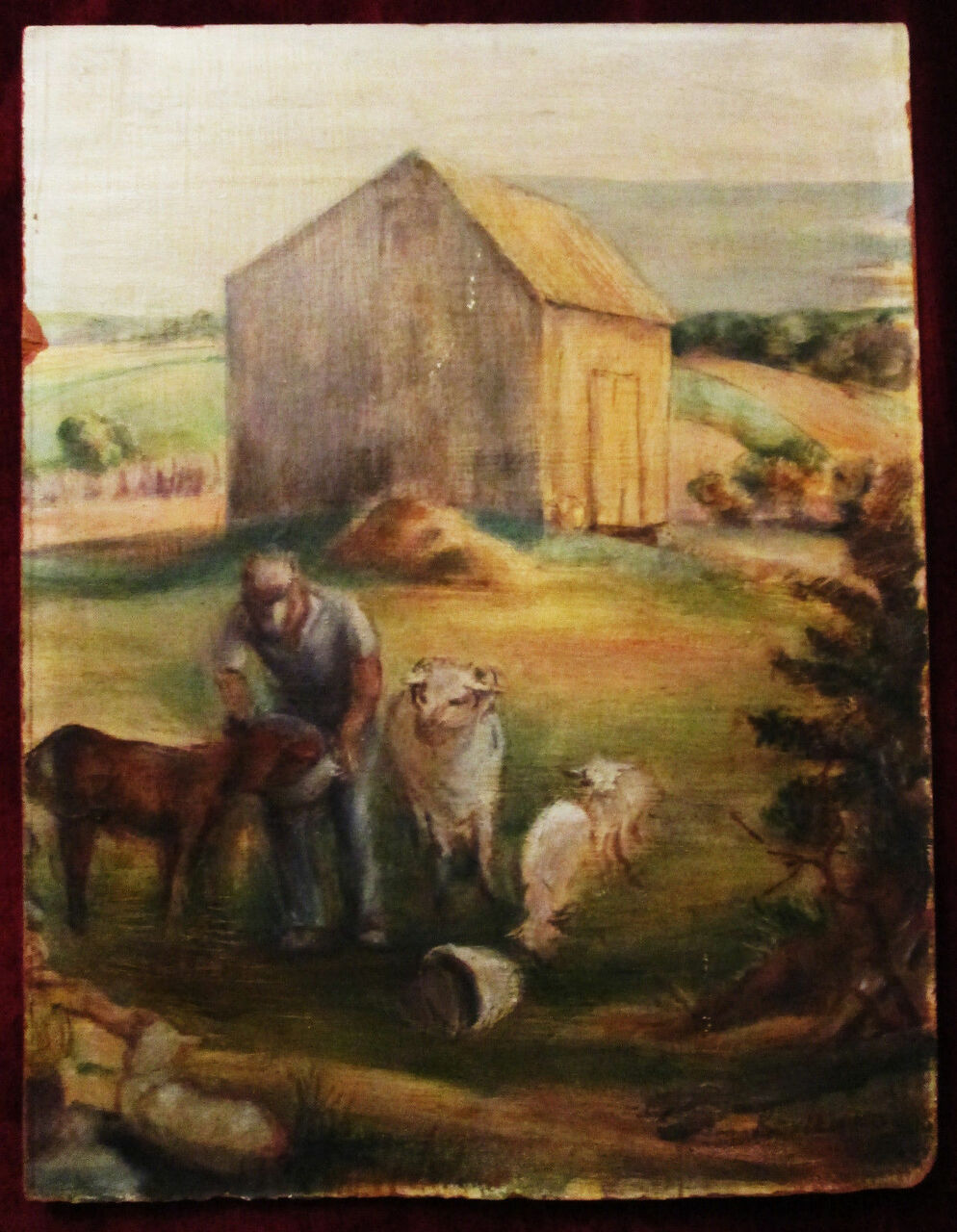 June 3, 2018
In 1942, Max and Eliena Krylenko Eastman took possession of their new home on East Pasture Road in Aquinnah (then Gay Head) on Martha's Vineyard. The property also included a studio for Eliena, an A-frame, recently demolished, with two additional rooms, a large bedroom in the back and a smaller attic space on top, as well as a garage for their car. Eliena, a lawyer by training, had been painting seriously since she left the Soviet Union in 1926—one of her many talents, which also included ballet, teaching, and literary translation. Although she is largely forgotten today, occasionally some of her works do still come up for sale. In 2011, for example, a small canvas, Woman on the Beach, was offered and sold by Doyle's in 2011. Recently, I was fortunate enough to acquire another small composition from a private collector.

As a painter, Eliena was a traditionalist. As if modernism had never taken place, her paintings were representational, marked by vigorous brushstrokes and splashes of color to indicate plasticity. The Vineyard landscape excited her and was a frequent subject of the painting she did for enjoyment. Her lack of sustained formal training gave her landscapes a kind of fresh, improvised quality, as in the painting I acquired, which shows a farmer holding a bucket for a calf, with a mother sheep and two lambs close by, one of which has just kicked over the bucket in the foreground. The barn sits awkwardly in the landscape, a sight not unfamiliar on the Vineyard where such structures often seem afterthoughts in a landscape barely intended for human habitation. Although she is distinctly pre-impressionist in her painterly sensibilities, Eliena was similarly enamored with the outdoors. Her landscapes are bathed in sunshine, and her light handling of the brush allows her to achieve an almost pastel-like effect, even in such a small painting.

Perhaps because she so much enjoyed being with people, Eliena's accomplishments as a portrait painter are perhaps more easily evident. Her portraits of Max Eastman, two of which hung right on the wall of her studio, do give us a vivid sense of her deep love for him. A particularly memorable one shows Eastman seated at his green writing desk, his head slightly cocked and his hands resting on his typewriter, the famous shock of white hair matching the open collar of his shirt.

A month before Eliena, aged only 61, died at their shared home on East Pasture, she wrote out her will on a scrap of yellow paper, her handwriting more wobbly than usual. "Eliena's Will" consists of only three unrhymed lines of poetry:

I will you all my strength,
Still so complete, unused,
To keep your spirit firm, foot sure, and head high.

The next stanza is by Max, in his handwriting. Three lines of poetry again, thanking and accepting Eliena's offer, with a pledge added in line four:

I have received, dear love,
Your priceless bequest.
My spirit firm, my foot sure, and my head high.
I promise.

The document, dated September 2, 1956 (and now at the Lilly Library), is an extraordinary testament to Eliena's resilience and selflessness. It is characteristic that, ever the pragmatist, she should have worried about what would happen to all the energy she felt she had left, despite the damage cancer had done to her body—a fact that only increases my admiration for a woman who, after leaving Soviet Russia at a side of man who had married her only reluctantly, saw life as a never-ending series of opportunities, not challenges. When Eliena was a child, her favorite literary character was Huck Finn. No wonder that for her even the prospect of her own extinction was "no time to be sentimentering." Death, for Eliena Eastman, was just another opportunity.