Watch the trailer for Max Eastman: A Life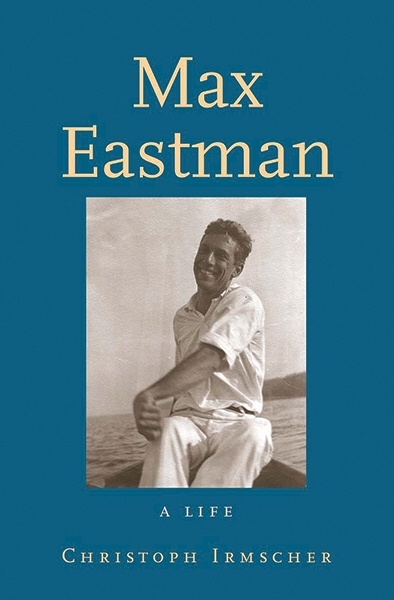 THE DEFINITIVE BIOGRAPHY OF A LITERARY AND POLITICAL ICON
Max Eastman (1883–1969) was a prolific writer, radical, and public intellectual who helped shape the twentieth century. While researching this work, Christoph was granted unprecedented access to the Eastman family archive, allowing him to document little-known aspects of the charismatic radical. Eastman edited two of the most important modernist magazines, The Masses and The Liberator, and campaigned for women's suffrage and world peace. A fierce critic of Joseph Stalin, Eastman befriended and translated Leon Trotsky and remained unafraid to express unpopular views, drawing criticism from both conservatives and the Left. Set against the backdrop of several decades of political and ideological turmoil, and interweaving Eastman's singular life with stories of the fascinating people he knew and loved, this book will has broad interdisciplinary appeal.
"Christoph Irmscher has written a truly humane biography of a life that captures the last century's transformations. Richly illustrated with photographs, artwork, letters, and published documents, Max Eastmangives the reader a full sense of the man who wrote poetry as well as trenchant political, literary, and philosophical essays, and who retained a lifelong interest in the sources of humor and laughter."—Werner Sollors, author of The Temptation of Despair

"This revolutionary turned reactionary deserves to be studied again. A polarizing figure—much celebrated, much reviled—he was a true American original, and this clear-eyed biography is equal to the task."—Nicholas Delbanco, author of Lastingness

"It's difficult to be a legend, but Max Eastman has at long last acquired the absorbing and revelatory biography he ought to have. Christoph Irmscher's textured portrait is written with self-confident clarity, a keen archeological eye, superb craft, and exemplary evidentiary standards. Surely definitive, Max Eastman disdains closets and dark places to reveal what it was like to have lived one of radicalism's most remarkable lives."—Alan M. Wald, H. Chandler Davis Collegiate Professor of English Literature and American Culture, University of Michigan

"A subtle portrait of a disappointed man . . . Readers wanting a full life of Eastman are well served by Mr. Irmscher's meticulous chronicle."—Richard Aldous, Wall Street Journal

"Satisfying in every sense, Irmscher's biography is a skillfully crafted record of an American intellectual who was conflicted and contradictory."—Choice

"Electrically readable."—The Vineyard Gazette

"A treat . . . Irmscher is a lively writer who creates a rich portrait of a complex man."—Mary Ann Gwinn, The Seattle Times
"Christoph Irmscher's new biography uncovers some new details of Eastman's life, but also gives us an opportunity to reconsider the hopes and failures of radical politics in the 20th century, and their possibilities in the 21st." The London Review of Books

"Christoph Irmscher ... is Eastman's nonpareil biographer." Review of Max Eastman on NBC2 (4 of 4 Stars)
Archie Henderson's Bibliography of Archives with Max Eastman Material
Archie Henderson, an independent scholar and lawyer in Houston, Texas, is the author of Conservatism, the Right Wing, and the Far Right: A Guide to Archives, published by ibidem Press. His updated bibliography, the most complete listing available of the countless archives with Eastman material, appears here with his permission. Compiling and updating this bibliography has been a truly Herculean task. Eastman knew virtually everybody, and he wrote countless letters to those he knew as well as to the handful of people he didn't know. He was interested in everything, and he was a voracious reader. How he managed to do all that while traveling and writing and editing for a living (with the exception of a stint as John Dewey's teaching assistant at Columbia when he was still a graduate student, he never held a "proper" job), is anyone's guess. Questions for Dr. Henderson may be directed to me via the contact form on this site.